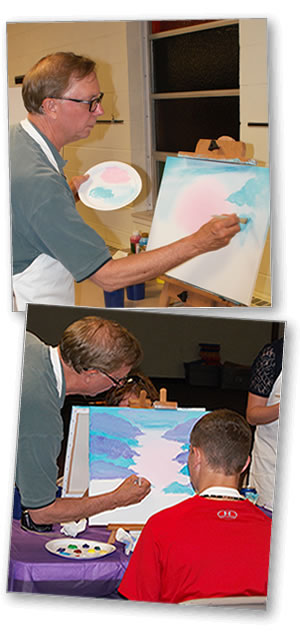 Your Art Instructor has been drawing and painting since childhood. He has years of Bible experience as a pastor, seminary instructor, and traveling Chalk Artist evangelist and missionary. He offers insights into each painting so you have a story to tell. If a picture paints a thousand words then these Bible related paintings really talk.
The Instructor makes the experience fun, offering step-by-step instruction, and sharing the underlying Biblical message of the picture being painted. By doing so, each participant is reminded of the love of God for him or her.
Besides painting the instructor has been employed full-time as a Web Graphic Artist with hundered of websites posted on the internet. He often utilizes graphic art presentations with the messages he brings. This really appeals to a visual learning generation.
He is ready to bring fun, fellowship, and faith to your:
Small Group
Youth Group
Ladies Group
Mom's Group
Singles Group
Seniors' Group
Friends
Any questions? Call us. We want to serve,